WHAT OUR CUSTOMERS HAVE TO SAY.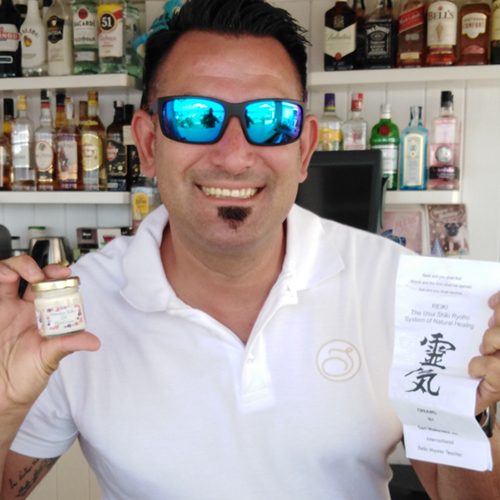 My Portuguese friend and barman Paco from Spain told me over a year ago of an operation he had on his knee, which left him with a completely blackened knee.
His surgeon had no explanation for what had happened.
It looked like skin cells had died to me.
So gave him one of my Hawaiian moisturiser creams to try. On seeing him 12months later the knee and skin surrounding was completely normal again.
A friend's leg who went on holiday to Mexico and had it burnt in 47° heat
She had to have skin grafts at the hospital which did not help, until she started using my reiki essence cremes.
Now it's all cleared up, without the help of hospital intervention.
Amazing
I've had a skin problem for years and tried so many prescriptions with little or no success. Having known Carl for over ten years he mentioned his cream may help and I'm genuinely blown away by the results. Thank you so much Carl.
Will be coming again
I visited Carl yesterday for a session of reiki. He made me feel so welcome and really relaxed when I arrived, my overall experience was absolutely mind-blowing and the session I had with Carl answered all my questions I had been thinking already. Thank you 🙂
Carl is Fantastic!
I had my first reiki experience with Carl and it was interesting and relaxing. Got some answers and reassurance I needed. Definitely will be doing it again.
Lovely Product!
Only just bought but love it already 🙂 I can still feel the moisture the next day